Description of the Project
More than 100 languages are spoken in the Himalayan kingdom of Nepal, but most of them have less than 10,000 speakers. Chintang and Puma are two highly endangered but almost totally undocumented languages which are spoken in localities situated to the south and south-east of the Everest region. Both languages belong to the Kiranti family of Tibeto-Burman, which includes more than thirty languages in East Nepal. Both Chintang and Puma are rapidly being supplanted by Bantawa (one of the major Kiranti languages) and Nepali, the national lingua franca. nevertheless, the two language communities still have a distinct culture with a rich oral tradition, maintained by a decreasing number of knowledgeable elders, priests, and shamans.

The Sino-Tibetan Family of Languages (Based on Michailovsky 1994, van Driem 1991, 2001, Opgenort 2004).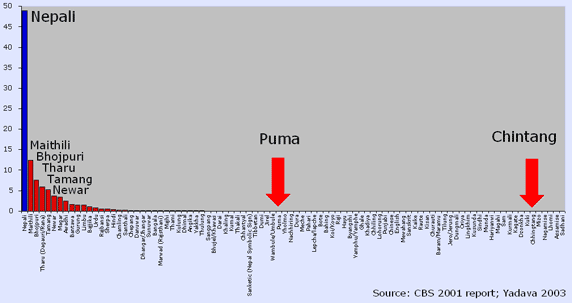 Language Endangerment in Nepal (Percentage of Nepalese who speak each language)
Source: CBS 2001 report; Yadava 2003